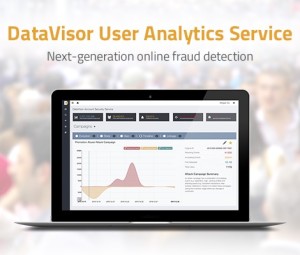 DataVisor announces the first fraud detection software solution that leverages unsupervised analytics to detect online fraud campaigns at incubation stages
MOUNTAIN VIEW, CA–(March 7, 2016) – DataVisor today announced the general availability of the DataVisor User Analytics Service, a solution that catches fraudulent user accounts at incubation stages for consumer-facing online services. The new fraud detection software offering is powered by DataVisor's unique unsupervised big data analytics that discovers new, unknown attacks in the wild without relying on any prior knowledge of attacks.
DATAVISOR IS DIFFERENT
DataVisor fraud detection software takes a new approach is drastically different from existing online fraud solutions that use rules or trained machine learning models to examine events or users individually. Such traditional solutions all suffer a serious limitation in that they rely on examples of known attack patterns, which are often difficult to obtain in a timely fashion and can only detect fraud reactively when an attack is already under way.
DataVisor is the first to successfully apply unsupervised analytics to detect cyberattack campaigns. Modern attacks often involve armies of malicious accounts that work in a coordinated way. DataVisor detects these attacks by identifying the subtle, aggregated patterns of organized crime rings, even when they are at incubation stages and haven't yet exhibited malicious behavior at the individual user level.  As a result, DataVisor raises the bar by detecting bad actors hiding within an online service before they launch an attack, greatly reducing the amount of damage incurred.   DataVisor User Analytics Service is the only online fraud detection software solution that can:
Catch "sleeper cell" fraud campaigns before they incur any damage

Detect all members of a crime ring

Discover unknown attacks without requiring labels or training data

Analyze billions of events per hour to support the largest online properties
PROVEN AT THE LARGEST ONLINE PROPERTIES
The DataVisor User Analytics Service has been in production for more than 1.5 years, protecting more than 400 million users and analyzing over 500 billion events across the globe. DataVisor's attack-agnostic unsupervised detection engine is widely applicable to a variety of fraud detection software use cases across different sectors, such as social, financial, gaming, advertising, including:
Identifying fake user registration and account takeovers (ATO)

Detecting  fraudulent financial transactions and activity

Discovering user acquisition and promotion abuse

Preventing social spam, fake posts, reviews and likes
"User acquisition is the epicenter of most mobile game companies, yet a sizable number of installs may be fraudulent. Fortunately, DataVisor provides microscopic visibility into user behaviors to catch fraudulent users, ensuring healthy mobile marketing campaigns and maximizing our ROI on mobile spends," said Mark Zhang, CTO and senior vice president at IGG.
A NEW ERA OF BIG-DATA SECURITY
DataVisor's unsupervised fraud detection software redefines the security landscape by enabling companies to proactively discover threats hiding within their online services.
A unique aspect of DataVisor's fraud detection solution is the capability to analyze  all users within an online service, across time, and compares their activities and attributes with one another to detect malicious patterns. This global view requires processing billions of events all together, beyond merely leveraging parallel computing power or a lot of hardware.  DataVisor's patent-pending unsupervised algorithm, which derives sophisticated patterns and relationships among different entities, was made possible with the latest advances in big-data technology only available in recent years, such as:
Big Data distributed processing systems such as Spark that overcome the limitation of holding a large amount of data in memory to allow efficient and more advanced algorithms

Cost-effective and scalable compute platforms such as Amazon Web Services
"The advancement of Big Data technologies in recent years has enabled us to truly scale out not just in data volume, but in innovative algorithms and processing flows that were not feasible before," said Yinglian Xie, CEO and co-founder of DataVisor. "We are no longer chasing after constantly evolving attack techniques, but for the first time, can stay ahead of attackers in the security arms race."
DataVisor will be giving demonstrations of the DataVisor User Analytics Service in Booth #229 at MRC, Las Vegas, on March 7-10, 2016.
For additional information on DataVisor, or to request a security assessment today, please visit www.datavisor.com.
About DataVisor
DataVisor is a leading online fraud detection service utilizing unsupervised big data analytics to identify attack campaigns before they conduct any damage to consumer-facing online services.  DataVisor protects some of the largest online properties in the world from cyber attackers. The company is founded by the world's experts in Internet security and is backed by NEA, the largest venture capital firm by assets under management, and GSR, a venture capital firm that specializes in disruptive technologies serving global markets.
Contact
Lisa Mokaba
Head of Media Relations
DataVisor
lisa.mokaba@datavisor.com