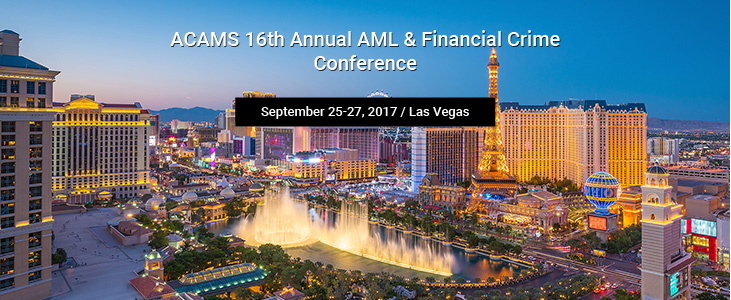 We're heading to the 16th Annual AML & Financial Crime Conference in Las Vegas, Nevada. ACAMS Vegas Conference is the most trusted meeting place for the AML/CTF/financial crime community dedicated to enhancing the knowledge and expertise of financial crime detection and prevention.
We learned a lot from attending the last ACAMS conference back in April in Florida about the increasing need to reduce the high number of false alerts driving up the cost of AML programs combined with the unease that existing TMS systems are unable to detect new advanced money launderers.
To continue our momentum, we're heading to ACAMS in Las Vegas next week (September 25-27) to learn from AML professionals and share how DataVisor's AI-based solution can help alleviate some of the fundamental problems in traditional transaction monitoring solutions (TMS) by doing superior network linkage analysis with unsupervised machine learning, but also supporting those results with human-understandable rules via the DataVisor Automated Rules Engine.
If you're attending and want to learn more about DataVisor and unsupervised machine learning, visit us at Booth #114, or request a meeting at the show with our team of artificial intelligence experts.
If you can't attend but are interested in how DataVisor can help reduce false positives and false negatives in your AML program, check out our AML whitepaper and our webinar on the Practical Approaches to Apply Machine Learning to AML.